Category: Mid-range
Megapixels: 20.2
Sensor size: 116 sq. mm
Zoom: 28-100mm
Pros: One of the best values on the market.
Cons: No electronic viewfinder or 4K video.
When people ask us which point-and-shoot they should buy, we almost always recommend Sony's RX100 series. These advanced compacts check all the boxes: large sensors, fast Carl Zeiss lenses, and a number of advanced features, all in lightweight and durable bodies. And with the release of the RX100 V below, you now have a whopping five models to choose from.
Last update was on: November 16, 2018 9:39 am
Why do we recommend the original RX100 here? Simply put, it's the best value of the bunch. The sensor and internal components of the RX100 are almost identical to the newer and far more expensive versions, so you get very similar image quality. Compromises come with the lack of a pop-up electronic viewfinder and 4K video, both of which are important features but not worth doubling the cost or more in our opinion. And serious video shooters should consider the Panasonic LX10 below, but we love the value of the RX100. Grab one while supplies last.
​See the Sony RX100
Category: Enthusiast
Zoom: 24-72mm
Sensor size: 116 sq. mm
Megapixels: 20
Pros: An impressive mix of image and video quality.
Cons: Limited zoom range and slower than the Sony RX100 V.
We absolutely loved the old Panasonic Lumix LX7, which was near the top of our lists of the best point-and-shoots and travel cameras for years. Enter the new LX10, which is very competitive with nearly all of the advanced point-and-shoots on the market, including those from Sony and Canon. Most notable is the f/1.4-2.8 lens, which is the fastest on the list and offers superb low light performance for a compact. The LX10 also has a touchscreen, which the Sony RX100 V does not, and shoots 4K video. It's the whole package for travel photographers and aspiring videographers looking for a small set-up.
What are the downsides of the LX10? There aren't many, but one is the 24-72mm zoom range, which is slightly longer than the RX100 V but shorter than the Canon G7X Mark II. It also shoots much slower than the RX100 V at 10 fps, although that's perfectly serviceable for most uses outside of serious action photography. And the LX10 also wins out on price, coming in less than most comparable high-end point-and-shoots.
See the Pansonic Lumix LX10
Category: Enthusiast
Zoom: 24-100mm
Sensor size: 116 sq. mm
Megapixels: 20.2
Pros: More focal length coverage than the cameras above.
Cons: No viewfinder or 4K video.
Sony dominated the 1" sensor market for years, but Canon has come out swinging with a dizzying array of premium point-and-shoots. Our top pick for 2017 is the G7 X Mark II, which is more expensive than the G9 X Mark II below but loaded with features and functionality. First, you get a useful focal length equivalent to 24-100mm, which is more coverage than the G9X Mark II, any Sony RX100 camera, and the Panasonic LX10 above. It also has a tilting rear LCD with touchscreen functionality, along with a fast f/1.8-2.8 lens that performs very well in low light.
What are the shortcomings of the Canon G7 X Mark II? It doesn't shoot 4K video, nor does it have an electronic viewfinder (all shooting is done via the rear LCD). For comparison, the RX100 III has a pop-up viewfinder and is roughly the same price. The Panasonic LX10 also lacks a viewfinder but makes up for it with 4K video and a faster lens. On paper, the G7 X Mark II is fairly expensive, but people love Canon functionality and the G series has been a hit.
See the Canon G7 X Mark II
Category: Enthusiast
Zoom: None (35mm prime lens)
Sensor size: 368 sq. mm
Megapixels: 24.3
Pros: A superb point-and-shoot for travel.
Cons: Fixed lens and high price.
We really liked the old X100T, but the new X100F is even more impressive. For 2017, this is Fujifilm's premier point-and-shoot and a great option for travel and street photography. Essentially, the X100T packs the guts of Fujifilm's mirrorless cameras but with the size and simplicity of a compact. Most impressive is the extra-large APS-C image sensor, which is more than three times as big as the Sony RX100 series and high-end Canon point-and-shoots like the G7 X Mark II. Compared to its predecessor, the X100F got a nice bump in megapixels (24.3 vs. 16.2), improved autofocus, faster continuous shooting, and better battery life, among other features.
The biggest downside of the Fujifilm X100F, and the reason it remains less popular than the cameras above with smaller sensors, is the fixed lens. With a 35mm focal length equivalent and a fast f/2 maximum aperture, image quality is excellent but you just don't get the versatility of a zoom lens. Professionals and enthusiasts love the camera and the photos can rival a mirrorless camera or DSLR at less than a pound all-in, but you better like that 35mm focal length. And one more consideration: the X100F does not shoot 4K video, making cameras like the LX10 and RX100 V preferred options for videographers.
See the Fujifilm X100F
Category: Mid-range
Zoom: 28-84mm
Sensor size: 116 sq. mm
Megapixels: 20.2
Pros: The same sensor as the pricier G7 X Mark II above.
Cons: No electronic viewfinder.
Yes, Canon makes more expensive point-and-shoots like the G7 X Mark II above, but the G9 X Mark II is a better value. You do have to cut back on features—the G9 X Mark II lacks an electronic viewfinder, has a fixed rear LCD, and a slightly smaller zoom range. But most importantly, the G9 X Mark II has the same large 1" image sensor and packs a punch in terms of image quality. If you don't mind lining up your shots via the LCD screen, this is an awesome compact camera for travel, everyday use, and even the outdoors (it only weighs 7.3 ounces).
For 2017, Canon released the Mark II version of the camera, with the original G9 X selling for about $50 less at time of publication. The cameras share the same 28-84mm f/2-4.9 lens, which is much faster than the Panasonic ZS70 below. Upgrades include a newer image processor, Bluetooth connectivity, and a slightly lower weight (the older version is approximately 7.4 ounces). The changes aren't groundbreaking, but we think probably worth the extra cost. But for those looking to save, the G9 X still is readily available.
See the Canon G9 X Mark II
Category: Enthusiast
Zoom: 24-70mm
Sensor size: 116 sq. mm
Megapixels: 20.1
Pros: The whole package in a point-and-shoot.
Cons: For the price, you can buy the mirrorless Sony a6000 with two lenses.
At the end of last year Sony released the RX100 V, the latest in this line of highly successful advanced compacts. The two most significant additions are an impressive 315-point phase detection autofocus (all previous RX100 models are contrast detection) and faster shooting with a speedy 24 fps burst rate. Combined with 4K video functionality and an electronic viewfinder, this camera is all that many enthusiasts and professionals need.
The biggest complaint with the RX100 V is battery life, which has fallen more than 20% from the previous version. In our rankings we also factor in the cost of this camera, which for example, is more than the mirrorless Sony a6000 with two kit lenses (in almost all cases we could favor the latter). And the final nail in the coffin of ranking the RX100 V here and not higher: Panasonic owns the video department and the new LX10 has a faster lens, is cheaper, and also shoots 4K. The Sony RX100 V is a great camera, but it's quite expensive in an increasingly competitive field.
See the Sony RX100 V
Category: Enthusiast
Zoom: 25-400mm
Sensor size: 116 sq. mm
Megapixels: 20.1
Pros: Tons of zoom and a 1" sensor.
Cons: Very heavy for a point-and-shoot.
If the size of your point-and-shoot isn't a primary concern, give the FZ1000 from Panasonic a serious look. With this camera you get a large 1" image sensor along with an extraordinary amount of zoom at 25-400mm (this specialized category of point-and-shoot has earned the moniker "superzoom"). Other point-and-shoots below like the Canon SX720 HS offer even more zoom in smaller packages, but those models have also considerably smaller sensors and can't compete with the optical quality of the FZ1000. And the cherry on top: the FZ1000 is one of the only cameras on this list that shoots 4K video.
The obvious concerns with a superzoom like the Panasonic FZ1000 are size and weight. This point-and-shoot is literally the size of a small DSLR, weighing in at a hefty 29.3 ounces. You certainly won't be sliding the FZ1000 into your pocket, but the versatility and convenience are attractive for travel and for those who don't want to carry and switch out multiple lenses. To be sure, it's a viable alternative to an entry-level DSLR, albeit with a smaller sensor.
See the Panasonic Lumix FZ1000
Category: Enthusiast
Zoom: 24-600mm
Sensor size: 116 sq. mm
Megapixels: 20.1
Pros: High quality stills and videos across its zoom range.
Cons: Too pricey and heavy for our tastes.
Many cameras in this category entice you with huge zoom capabilities but leave too little under the hood for serious photographers. The Sony RX10 III, along with the Panasonic Lumix FZ1000, are exceptions to the rule. This camera features Sony's large 1" sensor found in many of its RX100 series models, but brings to the table a huge 24-600mm zoom range. And unlike cheaper superzooms, the Zeiss lens on the RX10 III is the real deal at f/2.4-4. All in all, this camera is versatile, sharp, and produces great stills and videos in a variety of situations.
We have the Sony RX10 III ranked here because of its cost and weight. For nearly $1,400, the Panasonic FZ1000 above is around half the price, or you could put together a very respectable DSLR and telephoto lens combo in the same ballpark. And with the RX10 III tipping the scales at over 2 pounds 6 ounces, an interchangeable-lens setup likely would be in the same weight class. But the RX10 III wins out in versatility and ease of use, which is why it remains so popular. One exciting piece of news: the new RX10 IV hits retailers in October and boasts phase detection autofocus.
See the Sony RX10 III
Category: Enthusiast
Zoom: None (28mm prime lens)
Sensor size: 368 sq. mm
Megapixels: 16.2
Pros: DSLR-like image sensor.
Cons: No zoom isn't for everyone.
The Ricoh GR II doesn't represent a major update from the original GR, but it's still one of our favorite pro point-and-shoots. Its most notable feature is the huge APS-C image sensor—the same size as many digital SLRs—in a compact body that weighs less than 8 ounces. You also get built-in Wi-Fi and other minor improvements like faster shutter speed and buffering. Keep in mind that the GR II has a fixed focal length lens equivalent to 28mm on a 35mm camera, which is great for travel and outdoor photography but isn't for everyone. If you want professional-grade image quality in a tiny package, the Ricoh GR II is better at 28mm than any other model on this list. If you want the versatility of a zoom lens from your point-and-shoot in the same price range, the cameras above are better bets.
See the Ricoh GR II
Category: Mid-range
Zoom: 24-960mm
Sensor size: 28 sq. mm
Megapixels: 16.1
Pros: Huge zoom for such a small and lightweight camera.
Cons: Small image sensor.
The Canon SX720 HS is the quintessential all-rounder in its price range. This sleek camera is lightweight, pocketable, offers big time zoom at 24-960mm, shoots respectable Full HD 1080p video, and has built-in Wi-Fi for transferring images on the fly. And at just over $300, it makes a really nice compact travel camera and higher-quality alternative to your phone.
If you don't need the zoom capability of this camera, we would at least consider spending up for the Sony RX100 above. The image sensor on the SX720 HS is considerably smaller than the RX100, and the lens and low light performance are inferior as well. For a cheaper option from Canon, the older generation SX710 HS has less reach at 25-750mm but the same megapixel count and similar image quality overall. And the new SX730 HS offers improved resolution at 20 megapixels but is more expensive and has the same zoom range.
See the Canon SX720 HS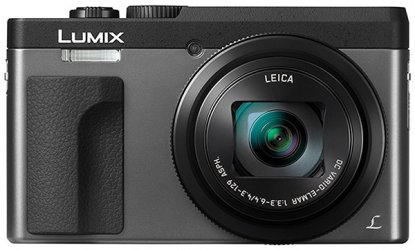 Category: Mid-range
Zoom: 24-720mm
Sensor size: 28 sq. mm
Megapixels: 20.3
Pros: A feature-packed camera with a sleek design.
Cons: Smaller sensor and slower lens than the LX10 above.
If you like the looks of the Panasonic LX10 above but want more zoom, the ZS70 is a nice mid-range option. This point-and-shoot offers an impressive list of features for a camera in the sub-$500 price range, including 4K video, an electronic viewfinder, and a super versatile 24-720mm Leica lens. We also love the design and feel of the ZS70, which is sleek and functional while weighing just over 11 ounces. Panasonic point-and-shoots have been growing in popularity of late and travel zooms like the ZS70 are big parts of that equation.
The reasons that we would hesitate to spend for this camera are the image sensor and aperture of the lens. With a relatively teeny 1/2.3″ sensor, the Panasonic ZS70 just can't compete with the heavy hitters in terms of overall image quality. And one of the things we love most about the LX10 is its blazing fast f/1.4-2.8 lens, while the ZS70 clocks at a much slower f/3.3-6.4. The bells and whistles certainly are there with this camera and it's a lot of fun to use, just don't expect premium image quality or low light performance.
See the Panasonic Lumix ZS70
Category: Waterproof
Zoom: 25-100mm
Sensor size: 28 sq. mm
Megapixels: 12
Pros: The only waterproof point-and-shoot to make this list.
Cons: The casing is nice, but optical perspective lags behind.
For most outdoor activities, we hesitate to recommend "tough" or "rugged" cameras unless you really need the extra protection. You pay a lot for a small image sensor and meager components, with a big chunk of the money going to the waterproof housing that protects it all. Having said that, the new Olympus TG-5 is a fun camera and the best in its class: it's waterproof down to 50 feet, dustproof, freezeproof, and has a respectable maximum aperture of f/2 for low light and underwater photos. We also like the 25-100mm zoom range, which goes wider than other tough cameras from brands like Canon and Nikon that are 28mm at the wide end.
Keep in mind that the small sensor and marginal optics on this camera limit the quality of the photos and videos it produces, and particularly for $450. The TG-5 was released in 2017 but with few notable upgrades (and one notable downgrade to 12 megapixels from 16 on the TG-4). The new version does have improved toughness, better fog prevention on the lens, and a cool "Microscopic" mode for underwater photography. But we're still waiting for a bigger jump in the waterproof market—a more serious underwater camera like the SeaLife DC2000 has a larger 1" sensor but is lacking in user experience and features.
See the Olympus TG-5
Category: Entry level
Zoom: 24-1200mm
Sensor size: 28 sq. mm
Megapixels: 16
Pros: Big-time zoom and a great value.
Cons: Bulky and has a small image sensor.
If you're looking for huge zoom at a reasonable price point, check out the popular Canon SX530 HS. For just over $250, you get a massive 24-1200mm of range along with image stabilization and Canon's signature easy-to-use functionality. This superzoom camera is large and definitely will not slide into your pocket, but for travel, sports, and everyday use, it packs a whole lot of punch for the price.
Why is the SX530 HS not higher on our list? The small image sensor is limiting for those who plan on making prints or shooting in tough conditions. The truth is that you have to a pay a whole lot more for a superzoom with a large sensor (see the Panasonic FZ1000 and Sony RX10 III above). But for those looking a budget DSLR alternative with a ton of zoom and good features, we like the SX530 HS.
See the Canon SX530 HS
Category: Entry level
Zoom: 22.5-900mm
Sensor size: 28 sq. mm
Megapixels: 16
Pros: Goes slightly wider than the SX530 HS above at 22.5mm.
Cons: Autofocus and Wi-Fi connectivity issues.
Nikon hasn't exactly been dominating the point-and-shoot market over the last few years, with brands like Sony, Panasonic, and Canon taking the reins. But we do like the Coolpix B500, a superzoom competitor to the popular Canon SX530 HS above. Both cameras are similarly priced and offer a ton of versatility with big zoom ranges. At the same time, both have small image sensors, few manual controls, and use 4 AA batteries, which adds to the cost over time unless you go rechargeable (and even that set-up costs something).
Why do we have the Canon SX530 HS ranked higher than the Nikon B500? We like the extra zoom (it goes longer at 1200mm), plus it weighs a few ounces less. More, some users have reported that the B500 has trouble connecting to Wi-Fi, and like most budget superzooms, autofocus has a tendency to hunt. One upside of the Nikon B500 is that it goes slightly wider at 22.5mm vs. 24mm on the SX530 HS. This may not seem like much of a difference, but for landscape photography and the outdoors, we'll take anything extra we can get.
See the Nikon Coolpix B500
Category: Entry level
Zoom: 24-960mm
Sensor Size: 28 sq. mm
Megapixels: 20
Pros: Massive zoom for just over $200.
Cons: Low light performance and autofocus could be improved.
We love saving with older generation models, and the Canon PowerShot SX410HS (and Sony W800 below) allows us to do just that. This entry-level superzoom gives you a very impressive 40x optical zoom equivalent to a whopping 24-960mm. For travel, sports, and wildlife photography, it's a fun and versatile camera at a very reasonable price point.
What are the downsides of the SX410 IS? Unlike the more expensive Canon SX530 HS above, it does not shoot 1080p video (you'll have to settle for 720p instead). And both the low light performance and autofocus are inferior. Some people may end up being disappointed with the image quality, but for those who shoot in normal lighting conditions, the SX410 IS a nice value.
See the Canon PowerShot SX410 IS
Category: Entry level
Zoom: 28-130mm
Sensor size: 28 sq. mm
Megapixels: 20.1
Pros: Bargain basement price and small size.
Cons: Image quality will leave many people wanting more.
At this low of a price point, you shouldn't expect wonders from your point-and-shoot camera, but that doesn't mean it's not worth buying. The DSC-W800 from Sony comes in a featherweight 4.7 ounces yet packs 20.1 megapixels of resolution and a 28-130mm zoom lens. This camera is significantly smaller than a smartphone and takes better photos, although it's debatable whether the jump is worth having two separate devices. We like the concept of having the W800 on trips where you may not want to bring a phone or want something smaller—this camera will easily slide into a pocket and you'll barely know it's there. Some users have complained about occasional blurriness and a general lack of sharpness, but you can't beat the size or price.
See the Sony DSC-W800
Point-and-Shoot Comparison Table
Video Reviews
Users who found this page were searching for: